57A Double Street
Spalding, PE11 2AB
Tel: 01775 680 683
Studio & Classes
---

Riverbank Studios
Situated on the banks of the river Welland, the Studios are in an ideal location for those wanting to devote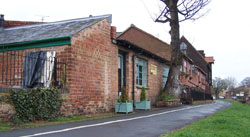 themselves to painting.

Although the town centre is is only a few minutes away, the Studios are located on a quite side street which, on the one hand allows easy access to the town centre, while on the other maintains an atmosphere of tranquility.
It is an ideal location for both John and Helen to paint, and teach others in their regular painting classes.
Art Classes
Art classes run during the year and are on a pay on the day basis.
The classes are open to anyone who wants to enjoy learning to draw and paint in the friendly, relaxed atmosphere of a well equipped studio.
Beginners are always welcome as are more experienced artists.
Daytime classes:
Tuesday 10:30am to 12:30pm and 1:30pm to 3:30pm
Thursday 10:30am to 12:30pm and 1:30pm to 3:30pm
Fee: £7 per 2 hour session and £13 all day.
Evening classes: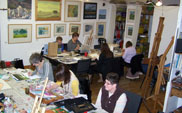 Wednesday general art: 7:30pm to 9:30pm Fee £7

Note: To check Life Class dates and models please see News and Exhibitions page.
Please click here for a downloadable version the Class Timetables
Adult Classes
During all the workshops students receive individual tuition within the group enabling them to progress at their own pace.
Students may also choose to join in specific topics such as colour, portraits, interiors, aspects of light etc, as these are introduced into the workshop sessions throughout the year.
For further information on the art classes please contact either John Gray or Helen Webber on 01775 680 683 or by email
johnhelen@ic24.net
For information on class timetables, please
click here.
Sunday Life Classes
Life classes are held on occasional Sunday's from 10.30am-1pm Fee £12.

To check life class dates and models please see news and exhibition page.